™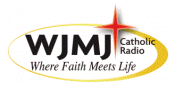 ®
| | |
| --- | --- |
| Listen LIVE Now | |
---
Or click this button to

---
The Metropolitan Opera Saturday Radio Broadcasts -
WJMJ is pleased once again to bring you another season of the live Metropolitan Opera Saturday radio broadcasts beginning December 7, 2013 and running through May 10, 2014. Please click here for a schedule of the Saturday radio broadcasts. For more information about The Metropolitan Opera, visit its website at www.metopera.org.

The contents of The Metropolitan Opera Saturday radio broadcast are copyrighted by The Metropolitan Opera, all rights are reserved, and any use or reproduction of any of the material therein without permission of The Metropolitan Opera is strictly prohibited and will be prosecuted.
---
Player features: Playlist tab - which shows the current and last 9 songs played, and you can click on any song and be taken to amazon.com to purchase; Donate tab - allows you to make a secure online donation to WJMJ via PayPal to help support our non-profit mission; Contact tab - allows you to send Email comments to the On Air Announcer (if you wish to sent a comment to station management, please email: comments @ wjmj.org [without the spaces]); More tab - that will eventually have links for additional information and features. There's also a facebook button, that links you directly to our facebook page.
If you have any problems with the new player, first make sure you have the latest version of Flash Player installed. If that doesn't resolve the issue, please use the Contact tab and send us a message. Thank you, and happy listening.
Or listen in your preferred media player by clicking one of the icons below:
iPod, iPhone, iPad & iTunes users:

Windows Media:

Mobile Devices:

Real Audio:

QuickTime:
Recently Played Songs on WJMJ (this page will automatically update every 3 minutes or you can use your browser's refresh button to update this list):
Loading ...
News from The Vatican
If the Vatican Widget does not appear above, we are experiencing technical difficulties connecting to the Vatican news service.
Current Weather in Prospect
Support ORTV/WJMJ when shopping online at amazon.com
Using the following amazon.com link and others that appear throughout our web site helps support WJMJ radio and the television programs, produced by the Office of Radio & Television. Thank you!