Online donations may be made using any major credit card or personal/business U.S. checking account. All payments are securely processed using Secure Socket Layer (SSL) Encryption. No credit card or bank account information is ever saved or stored on our websites or servers or in any electronic or printed form. Charges will appear on your bank/credit card statement as: "ORTV/WJMJ".
Catholic Relief Services' Hurricane Relief efforts address both emergency and long-term recovery needs in the most devastated areas. CRS' assistance focuses on water purification and sanitation, shelter, distribution of essential food and nonfood items, medical care, trauma counseling, psycho-social support, and the rebuilding of communities to restore livelihoods.
CRS has had a significant presence in south and southeast Asia for more than 60 years, providing both emergency and long-term development assistance. The official international humanitarian organization of the U.S. Catholic community, CRS provides assistance to people in 99 countries and territories based on need, regardless of race, creed or nationality.
---
2019 Connecticut Catholic Men's Conference

| | |
| --- | --- |
| | Register now for the 12th Annual Connecticut Catholic Men's Conference on Saturday, October 19, 2019 at St. Paul Catholic High School, Bristol, CT. |
---
Sicily 2019 with Father John - October 31 to November 13, 2019 - LAST CALL!
Space is still available for the Office of Radio & Television's and WJMJ Radio's 14 day/12 night pilgrimage tour to the beautiful island of Sicily this October 31 to November 13, 2019. Father John Gatzak is your host for this pilgrimage tour that features: Palermo; Monreale; Erice; Cefalu; the Marsala wine region; Agrigento... and the Valley of the Temples; the mosaics at the Villa Armerina; Savoca and the Barone Palantia estate... where scenes from The Godfather were filmed; Taormina and its Greco/Roman theatre; Mt. Etna, Europe's tallest active volcano; Messina; Catania; and Siracusa and its old town Ortigia; the UNESCO World Heritage cities of Modica and Ragusa; and much more... And not to mention the wonderful Sicilian people, food, wine and sweet treats. The Cost per person, double occupancy from JFK International Airport, New York: Double $3,949; Single $4,747 and are wait list only. Reservations received after 09/09/2019 are subject to air availability and any increase in airfare. For more information call Scott or Lauren at 203.758.7367 or click here.
May 30, 2019 - Faith and Fun on WJMJ
Check out the June 2019 issue of the Catholic Transcript with Father John and Floyd Wright on the cover which features a cover story about your favorite radio station WJMJ. If you don't receive a copy of the Catholic Transcript you can read it online at: http://faithdigital.org/Hartford/HART0619r/.
---
April 21, 2019 - The Celebration of the Eucharist Television Mass
Father John Gatzak, Executive Director of the Office of Radio & Television is pleased to announce that beginning with today's live television broadcast of The Mass of Easter Sunday, The Celebration of the Eucharist television Mass will be simulcast daily at 10:00 a.m. on WCCT-TV CW20 and WCTX-TV MyTV9.
Please check you local TV listings for your channel designation.
---
The 2020 Oberammergau Passion Play - SPACE IS LIMITED FOR THE JULY 20, 2020 DEPARTURE!
The Oberammergau Passion Play in 2010 was attended by over 500,000 people, including a group of 88 Office of Radio & Television and WJMJ Radio supporters. From May 16th to October 4th, 2020 the 42nd Passion Play will be performed in Oberammergau, Germany. Yes, the dates are correct... tickets to this sought after event went on sale in September 2017 and are selling like hotcakes! Since 1634, a Passion Play has been performed every 10 years by the citizens of Oberammergau in thanksgiving to God for sparing them from the Black Plague.
SOLD OUT
Alpine Explorer & the Glacier Express Train with Oberammergau Passion Play
September 13 – 24, 2020
Hosted by Father John Gatzak
SOLD OUT
Our Alpine Explorer & the Glacier Express Train with Oberammergau Passion Play tour for September 2020 is sold out; however, we have this second chance opportunity for you! Working with with our travel partners, we were able to secure tickets for the July 26, 2020 performance of the Passion Play which is included with the Exploring the Alpine Countries with Oberammergau Passion Play tour.
Exploring the Alpine Countries with Oberammergau Passion Play
Featuring Austria, Germany and Switzerland
July 20 - August 1, 2020
Hosted by Father John Gatzak
This is a 13 day/11 night tour from July 20 - August 1, 2020. This tour will also be Hosted by Father John Gatzak, and features Austria, Germany and Switzerland. Highlights include: Vienna, a Danube River Cruise, a Mozart Dinner Concert at St. Peter's Restaurant, Munich, the Oberammergau Passion Play, the Black Forest, Château de Chillon, Zermatt, and Lucern. Your tour also includes 19 meals; 11 breakfasts, 1 lunch and 7 dinners. Reservations will be filled on a first come, first served basis. You saw how fast our Alpine Explorer tour sold out, so send in your deposit TODAY! Please note that there is a waiting list for Single rooms and there are no triple room accommodations for this tour.
If you would like to learn more about this tour, you may view an archive to the special webinar that was held on September 5, 2018 by visiting: View Webinar. There is a short registration form to complete, which then takes you to the webinar archive.
For more information contact Scott or Lauren at (203) 758-7367 or email pilgrimage@ortv.org. To learn more about the history of the Passion Play, please click HERE.
---
April 7, 2019 - Blessed Mother Clelia Merloni - Watch Archive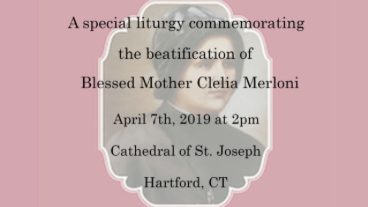 ---
March 6, 2019 - Lent 2019
Click

to read Pope Francis' message for Lent 2019.
February 11, 2019 - World Day of the Sick 2019
Click

to read Pope Francis' 2019 message for the celebration of the 27th World Day of the Sick.
---
46th Annual March for Life - Friday, January 18, 2019 - Washington, DC
For more information on Project Rachel and "Hope After Abortion" resources please visit: http://hopeafterabortion.com/.
On Friday morning, October 5, 2018, Archbishop Leonard P. Blair of Hartford, visited WJMJ's new transmitter site and pressed the button that raised the transmission power of the station to 100% as allowed by its Federal Communications Commission's license. WJMJ's new transmitter broadcasts both the traditional FM signal as well as three digital HD Radio channels. Listeners with HD Radio receivers in their cars, homes or businesses will hear a superior quality sound on HD-1, the channel simultaneously carrying WJMJ's music and information mix. On the other HD channels, listeners can hear Catholic programming from EWTN, the Eternal Word Television Network. The EWTN programs are in Spanish on WJMJ HD-2 and in English on WJMJ HD-3. This allows WJMJ to better serve an audience that wants to hear traditional Catholic religious programming and Connecticut's growing Hispanic population.
WJMJ is a non-commercial station that is listener-supported by its semi-annual Radiothons, and for the last several years the listeners have been generously contributing a portion of each Radiothon toward a new transmitter. "We're very grateful for their generosity and patience," says Fr. John Gatzak, general manager of WJMJ. "Our family of listeners has been helping us save up the money needed to make this great technical improvement possible, and now they get to reap the rewards of their kindness. The music and other programs sound even better!"